Modern locking solutions offer a wide range of advantages, especially for high-traffic and public buildings. Therefore, it comes as no surprise that electronic locking systems are a perfect investment for universities and their libraries with thousands of visitors. The renowned Albert Ludwig University of Freiburg, for example, relies on quality and flexibility for its library.
Freiburg University relies on electronic locking systems
With around 24,000 students (as of winter semester 2021/22), the Albert Ludwig University of Freiburg is one of the best in Germany. Especially with its large medical department, it definitely stands on par with the top of the European universities. In addition to the medical faculty, it offers a whole range of other degree programmes – from humanities and social sciences to natural sciences and technical disciplines.
The perfect solution for more than 3,000 lockers: electronic locking systems at the university
With regard to properly equipping the university library in Freiburg, one thing was clear: the solution for more than 3,000 lockers, book lending cabinets and storage compartments needed to be easy to organise and low-maintenance. With the SAFE-O-TRONIC® access LS 300, locking system, manufacturer Schulte-Schlagbaum AG was able to offer exactly the right solution.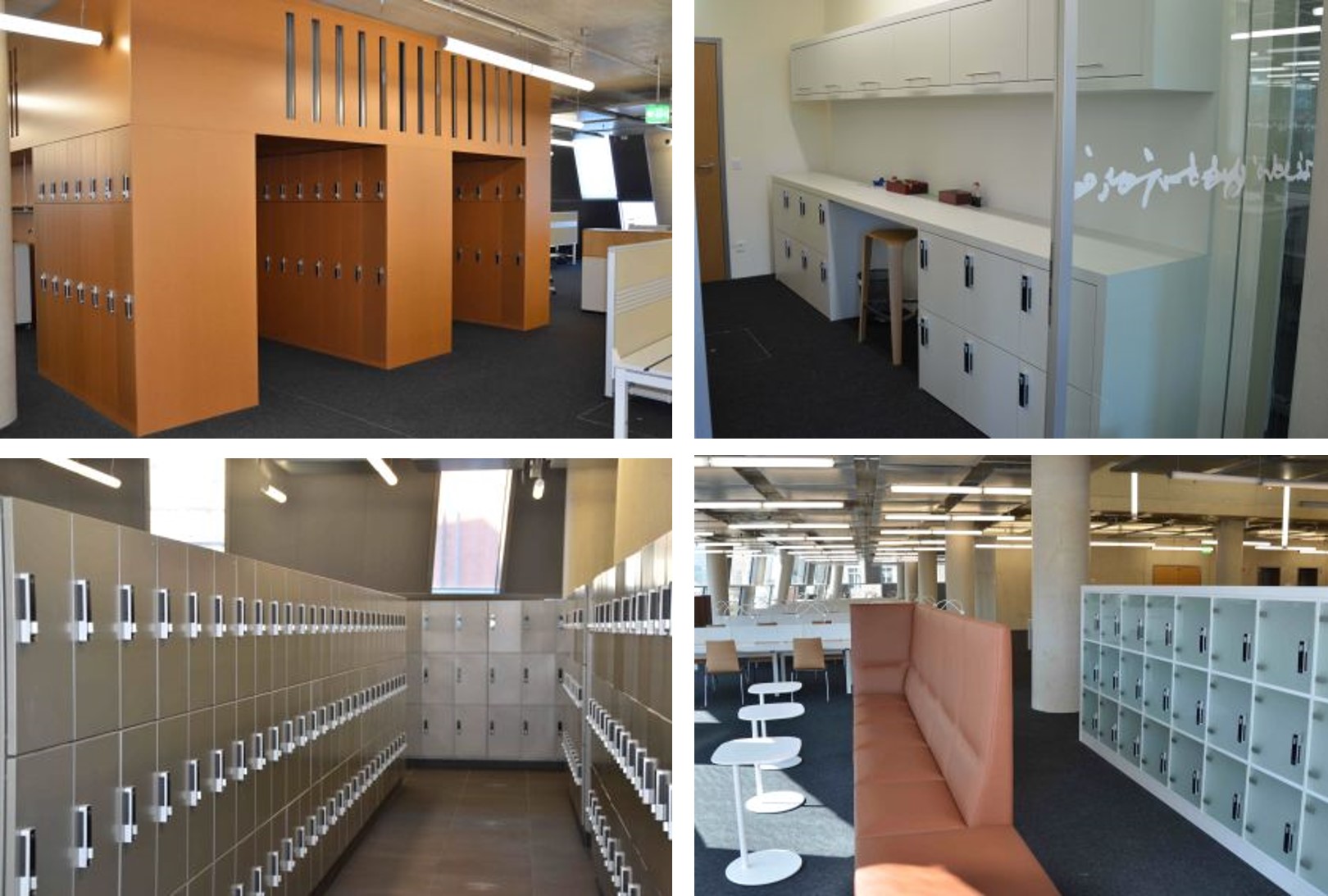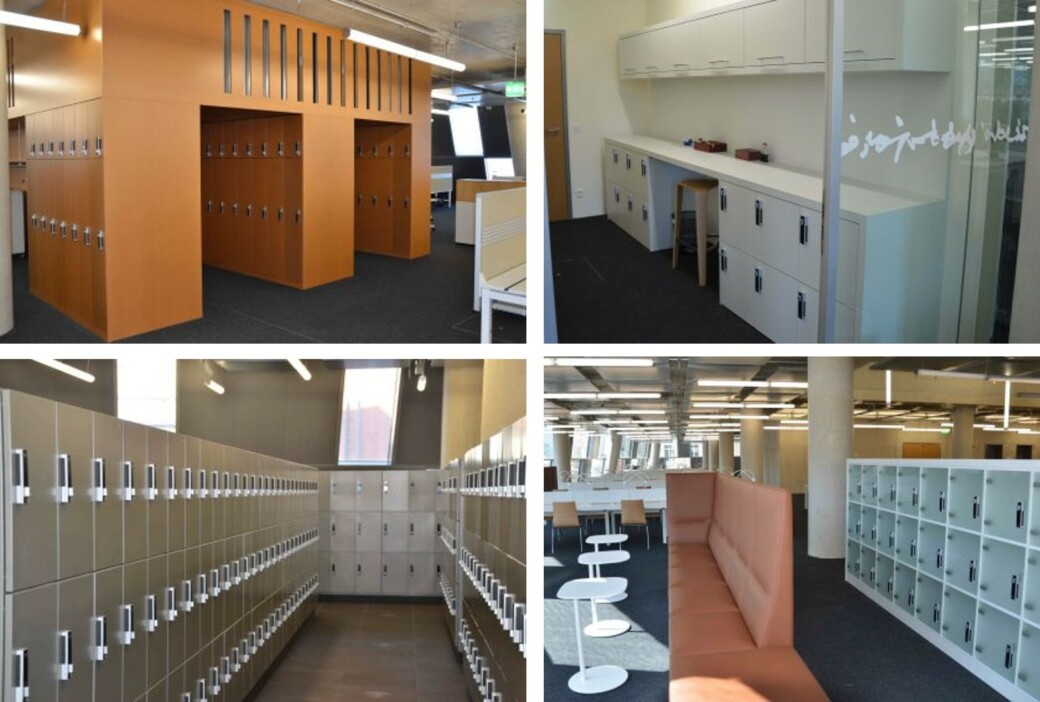 Plain and simple.
Even the installation of the electronic locks proved to be extremely time-saving, and the programming and commissioning was also completed in no time at all.
The advantages:
During operation, convenient time management functions prevent unwanted permanent locker reservations and optimise capacity management.
Battery-powered long-term energy supply and management of the entire system via uniform software minimise the maintenance effort considerably.
Smart: access solutions for different user groups
A total of 104 electronic SAFE-O-TRONIC® access DS 300 door locks also ensure secure access for employees of the university library. The comprehensive locking solution by the premium manufacturer from Bergisch Gladbach offers a wide array of organisational benefits for every application area – including cost and time savings.
Smart door openers!
Students and employees can enter authorised areas with an RFID card. The unique 3-in-1 combination of PIN code, contactless RFID and smart Bluetooth technology of the smart SAFE-O-TRONIC® access solution makes it possible to set up different security levels and access authorisations for user groups (such as visiting student, day visitors or employees).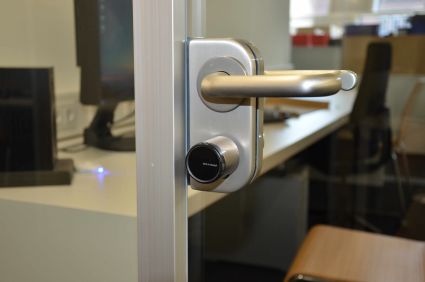 Stylish electronic locking systems for universities
For example, access to employee areas can be organised with the SAFE-O-TRONIC® access DS door locking systems or the SAFE-O-TRONIC® access CS electronic locking cylinder for all-glass doors. Moreover, lift use can be organised with the SAFE-O-TRONIC® access TS scanners or access to the multimedia cabinets can be managed with the SAFE-O-TRONIC® access LS furniture locking system.
Aside from the stylish design and intuitive operation, it was primarily the high product quality 'Made in Germany' that convinced the operators to opt for the locking systems from Velbert. All in all, Schulte-Schlagbaum offers the Freiburg University a tailor-made solution that fully meets the unique requirements of its library.
Users of all ages can easily operate the electronic locking systems for universities. The low maintenance requirements also ensure long-term operability.
Proven quality with future-proof design
With its SAFE-O-TRONIC® access product line, SAG proves to be a market and innovation leader by setting a new standard in the field of smart locker and door access systems. SAFE-O-TRONIC® access locking systems and the successful SAFE-O-MAT® brand have proven their worth in over a hundred thousand properties around the globe.
Whether it's lockers in changing rooms,

lockable storage compartments,

office furniture or

any other type of storage system,
SAFE-O-TRONIC® access replaces mechanical locks with convenient, electronic solutions to make laborious key management a thing of the past.
The same also applies to the portfolio of door lock solutions: with the SAFE-O-TRONIC® access DS programme, Schulte-Schlagbaum offers a comprehensive array of services for secure access management and reliable locking of all types of doors.
Would you like more information? Simply contact us at saghotline@sag-schlagbaum.com