Travel spontaneously without having to forego the advantages of your own four walls. Work and live in a new city for a longer period without complications: Serviced apartments – also called boarding houses – make it possible! Serviced apartments offer cosy, fully equipped living space in an urban location. An easy solution to live in the centre of Berlin, Munich, Amsterdam or even New York. The serviced apartments convince not only with their location, but also with a homely atmosphere that is rarely found in a hotel. In addition to fully furnished, cosy rooms, boarding houses often also have other services: free internet access, room and luggage service and many other services that are also available in a traditional hotel. The solutions from SAG Smart Access enable smart entry into the temporary home: Entrance area, room door, cabinet lock – everything is accessible 24/7 thanks to the electronic locking systems.
Advantage of
self check-in apartments
But what are the advantages of living in a serviced apartment?
Temporary living in a furnished house
the best of both worlds: apartment and hotel room in one
saves staff resources
The focus is on comfort throughout the building
ideal for long term stays
good facilities: kitchen, WLAN, TV, use of washing machines and dryers
further services such as cleaning possible depending on agreement
living in the middle of the city, near the airport
Your time in the metropolis of your choice could begin with a smart entry into the apartment building. Electronic locking systems allow uncomplicated access, e.g. through a gate to the residential building. With an electronic door lock from SAG – secured, for example, with a numerical code – guests can easily gain access to the accommodation. The advantages for operators and tenants of serviced apartments are obvious:
24/7 Check-In, ohne Personal
temporary guest codes
Thanks to the 2-in-1 solution with PIN and RFID, there are no additional costs
System openness and compatibility
Travellers get easy access to the Self Check-in Apartment. Smart access authorisations create flexibility and convenience that make boarding houses or serviced apartments attractive for long-term tenants. Temporary residents only need their smartphone and no additional app. In Paris, London, Tokyo and New York, electronic locking systems are already part of the standard equipment for practical temporary living spaces, and German cities such as Munich and Berlin are slowly following suit.
As the PIN code is not dependent on staff, guests can move into their new home flexibly at their own leisure. You'll receive the temporary access code directly with the booking confirmation or shortly before arrival. With the temporary guest code from SAG, the operator allows the resident temporary access to his serviced apartment, independent of staff. The resident is granted access – completely autonomously and without any app function – with a PIN code that includes the various check-in/out times as well as the guest's length of stay. The PIN code, which is only valid for the booking period, can be sent to the tenant with the booking confirmation or on the day of arrival. This means that arrival or departure is possible at any time. Alternatively, the PIN code can be sent automatically on the day of arrival by external systems such as Code2Order.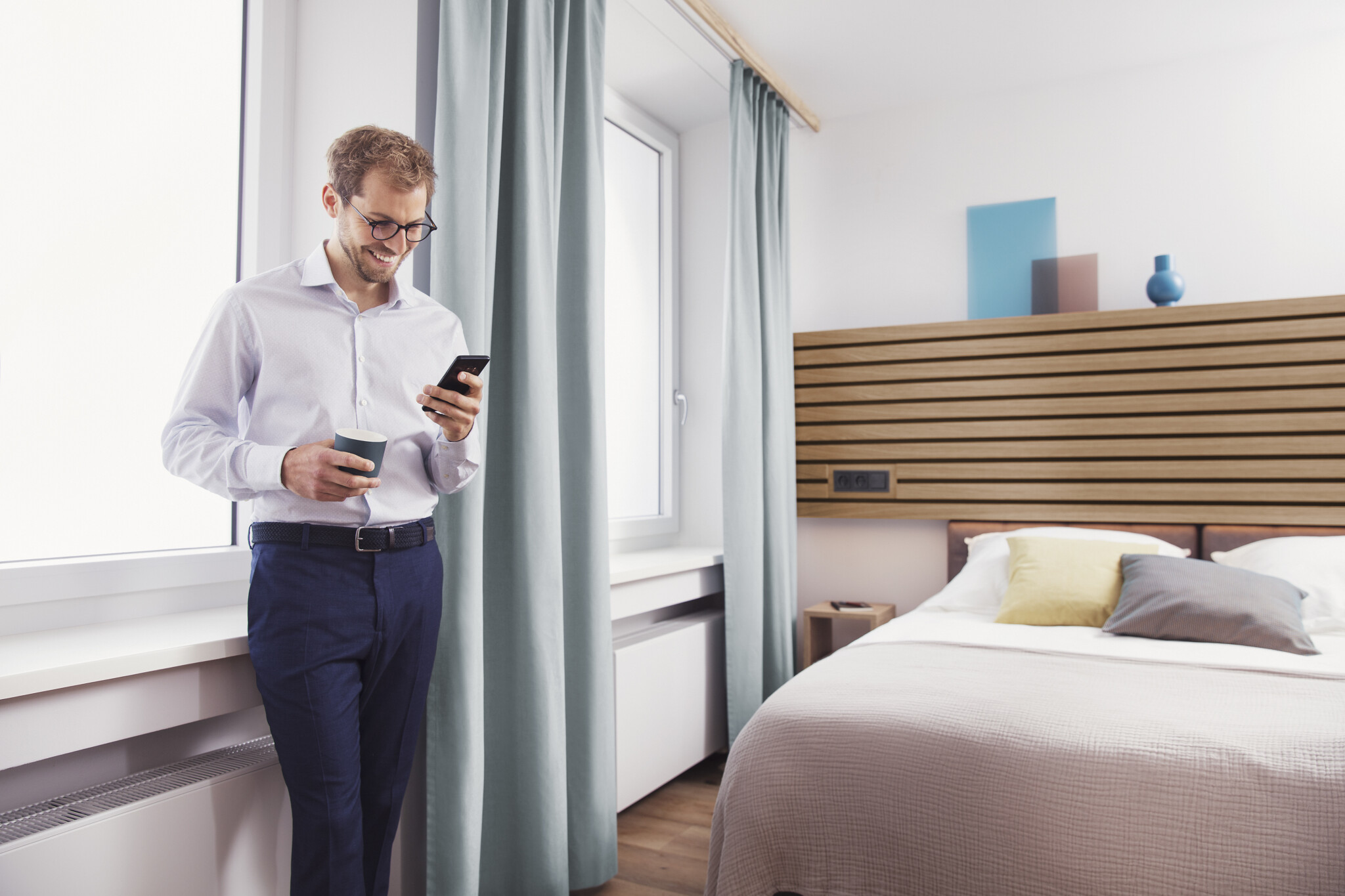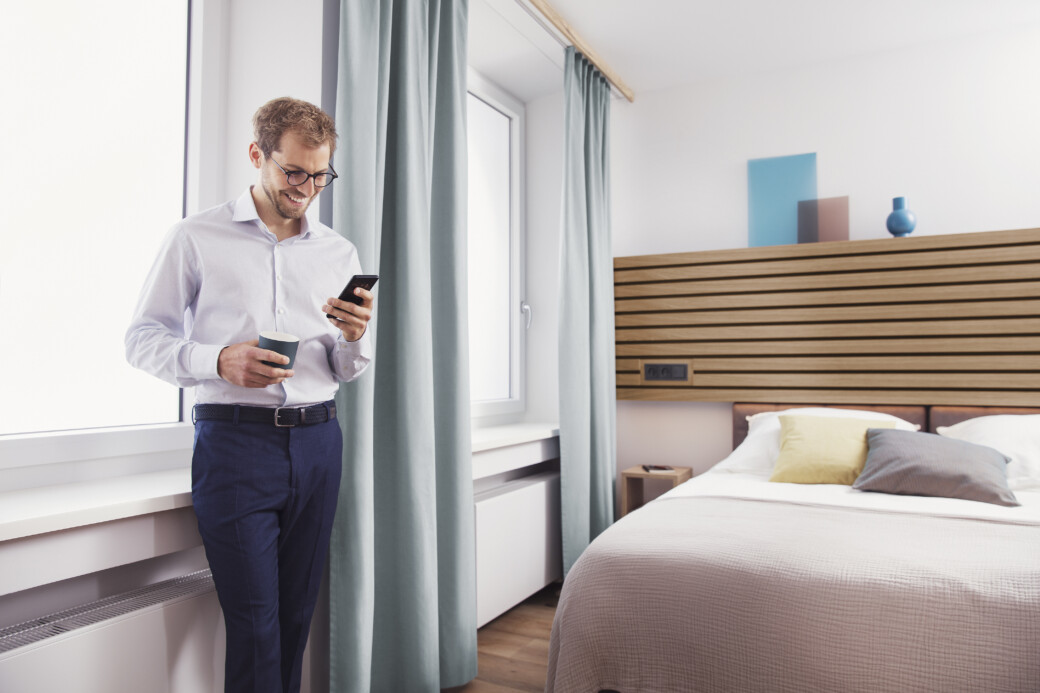 Living in a smart
serviced apartment
In 2019, the number of serviced apartments in South and North America was already 548,000 – and rising. Especially business travellers with longer stays book this type of accommodation. They benefit from the service of the boarding houses, as do private travellers with longer stays. The Self Check-in Apartments are ideal solutions for city trips, visiting family, studying or internships, as they often have a kitchen and are therefore also booked for months. People with challenging professions that require a high degree of flexibility – such as auditors and consultants, but also executives changing employers – benefit from the serviced apartment offer, as do project managers or commuters. Especially people who are in the middle of a move, but whose apartment may not yet be ready for occupancy, can find a temporary home in the serviced apartment. A solution for just about everyone: For groups, families, but also for solo travellers, the apartments offer exciting solutions.
Living in a serviced apartment makes everyday life much easier. No more stress from misplacing or even losing the key. Never worry about lost keys again. Keyless entry makes it possible. Besides building access, apartment access can also be controlled in a smart way with the SAG solution. In addition, the electronic furniture locks round off the smart range, because they reliably secure all valuables.
The next step
towards the future
The existing solutions are complemented by the radio-based Bluetooth function, which enables access to the apartment by using the smartphone via app. The app simplifies access management and bundles a number of useful features such as a digital guest folder or the direct feedback channel. The advantages of the radio-based Bluetooth function:
suitable for integration into an in-house or third-party app
Access via an RFID transponder can be integrated into the process at any time
to optimise guest management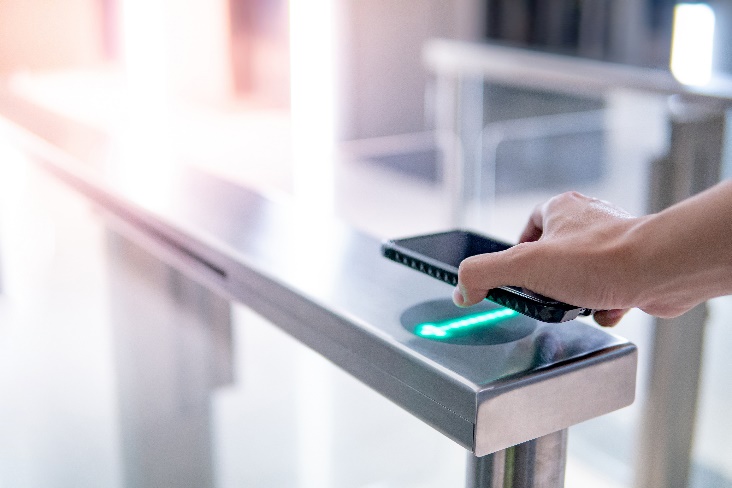 Smart boarding houses –
hotels of the future?
The rooms of a self check-in apartment are often more spacious and cosy than the usual hotel rooms. But it's the price that makes the difference in the long run. Per night, the price for a serviced apartment is lower for a longer visit. 30 to 50% below comparable hotel prices. Although it lacks the usual hotel services such as room service or 24-hour reception, it also reduces the costs for the service. The location is particularly important: Boarding houses score points with their proximity to nightlife or the workplace. The accommodations are also more practical and can be rented for longer periods than the traditional holiday apartment. When boarding houses or self check-in apartments are equipped with our smart solutions from SAG, guests and hosts gain flexibility and freedom. Particularly for long-term travellers or professionals on assembly, the boarding houses offer a home-like feeling. Especially in the urban jungle, the feeling of being at home is an advantage to enjoy all the positive moments of urban life.
FAQs: