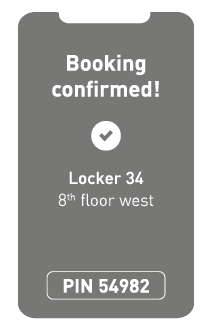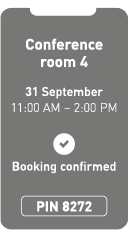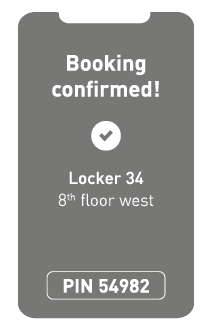 Electronic furniture lock –
Electronic furniture lock – So all valuables are safely stowed away!
Lockable cabinets and drawers, e.g. with an electronic furniture lock, are nowadays encountered in many public facilities. From universities to large companies, numerous institutions have already switched to electronic locks. With a wristband, a transponder or a card with access rights, an electronic furniture lock can be opened easily.
An electronic furniture lock is taken to a new level with SAG Smart Access, because we go one step further with electronic locks: locker capacities that can be booked online, lockers and safe deposit boxes with access via Bluetooth, pin codes, transponders, e.g. in the form of cards or a mobile phone app – in future, lockers will fit seamlessly into the digital ecosystems of modern corporate organisations.
Keyword efficiency: An electronic furniture lock is the smart and simple solution to control user authorisations
Confusing, large and difficult to manage. All this applies to large public facilities such as factories, universities, offices, schools and many other buildings. So to add a little something to better building management, an electronic furniture lock makes it easier for you to control and for your users to book locker capacity:
Thanks to electronic furniture lock systems, access is location-independent, flexible and mobile bookable
Minimal administrative effort

Maximum capacity utilisation
High security comfort
The doors of the lockers can be opened easily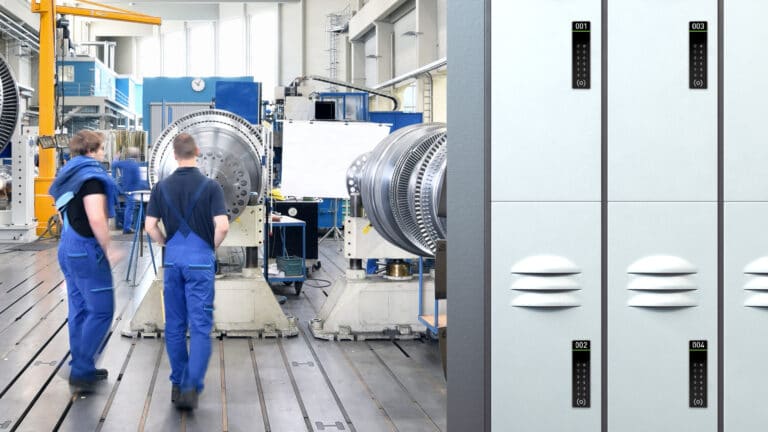 Electronic furniture locks lift lecturers and students One Level Up
They are usually located in front of the library, in the corridors or at the university canteen: Cabinets, drawers or lockers for students' or lecturers' valuables. Originally secured by a key, backpacks, suitcases or similar items can be stored here. However, an electronic furniture lock on a Smart Campus makes the lockers much more efficient…
A pick-up service for quick and easy check-out thanks to the electronic lock
'Ping' Your check-out has been confirmed. Locker 662.
Right in the middle of the lecture, one of your students remembered that he or she forgot to borrow a book. No problem at all. Quickly selected via the library catalogue and borrowed, the book is now ready for collection in locker 662. Magic? No, smart programming of intelligent access management and electronic furniture locks.
Time Sensitive Booking Code for controlling the media cabinet
Once in the lecture hall, the lecturer simply opens the door of the media cabinet by code and sets up everything necessary. The code was previously sent to his smartphone for the time window 12:15 -1:45 PM and subsequently loses its validity. This means that between lectures and at weekends, all utensils are safely stowed away and protected from theft.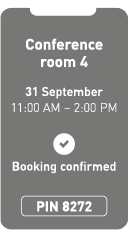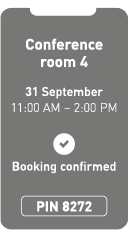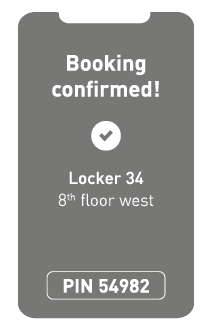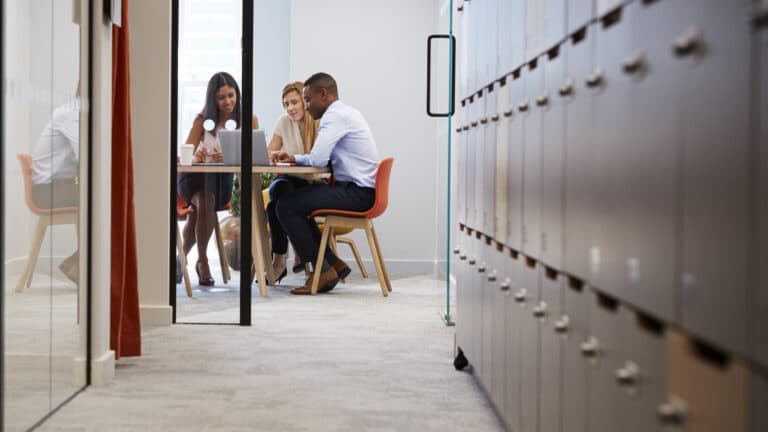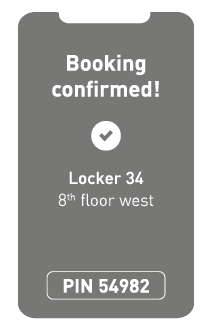 New forms of work and new locking options through an electronic furniture lock
Start-up companies are the prime example of innovative forms of work. The normal way: Employees no longer have a fixed workplace, instead they all work mobile in so-called shared spaces. Sounds good, doesn't it? However, the scenario has a catch: The open workspaces and the shared use of workstations are only possible if all employees can always and everywhere safely store their valuables. This is where our electronic furniture lock comes into play. It is:
Efficient,
because it allows all users time-controlled access, and scores points with minimum consumption expenditure and maximum utilisation possibilities.
Variable,
because an electronic furniture lock can adapt to a wide variety of media and access options and is always digitally controlled.
Cooperative,
because the electronic cabinet lock can be easily integrated into already existing systems.
Secure,
because it protects valuables safely and intelligently. Yet it's invisible and only of use to consumers. An alarm signal sounds in the event of burglary or vandalism.
Complex cabinet systems are easier to manage than ever before thanks to their cable-free networking…
An electronic furniture lock enables next-level building management and allows the entire system to be controlled conveniently and easily. Especially in large changing areas or flexible working environments, this Smart Access variant ensures a smoother and more efficient process. Plus the uncomplicated installation of the electronic lock is also convincing.
… and intelligently usable
Lost your key? Yesterday's news. For large buildings such as offices, universities, clinics or industry, keyless access is probably one of the biggest plus points. Smartphones, pin codes, Bluetooth data carriers or RFID transponders such as key cards can be used to digitally open and close the electronic cabinet lock. And the best part: In the future, a cloud-based smart access system will make this solution easy and innovative to implement across locations.
Guests are also well catered for: With the Time-Sensitive Booking Code (TSBC), visitors can also be provided with a temporary access code to the electronic cabinet lock for the duration of their stay.
Electronic furniture locks from SAG are the ones with the red dot
These electronic cabinet locks look prize-worthy, don't they? The jury of the Red Dot Design Award thought so too. Our electronic furniture locks were awarded the red dot in 2010 and thus stand for particularly high design quality. Our way: Beautiful and intelligent – well, if that's not a plus?
Design award –
Our hardware
system landscape Intelligent cabinet lock (excerpt)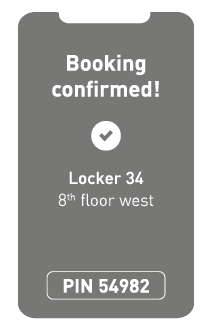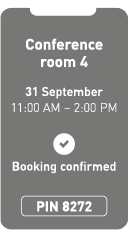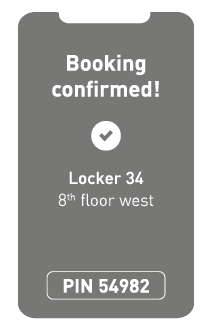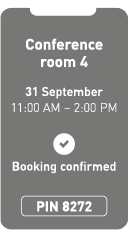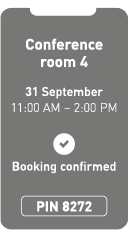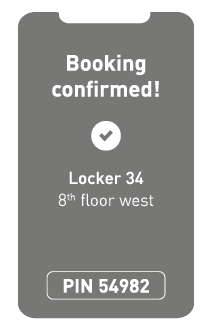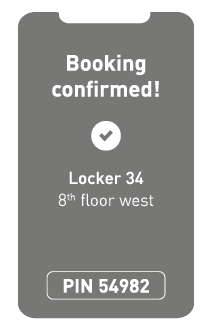 The electronic furniture lock at a glance
Save

Secure Intelligently controlled access to all furniture
Alarm signal in case of burglary or vandalism
No key loss possible
Individual access authorisations

Variable

Digital access control to the electronic locking systems
Smartphone and Bluetooth, RFID cards and pin codes as key substitutes
Time-limited access through Time Sensitive Booking Code (TSBC)

Efficient

Efficient Timed control of usage options
Minimum management effort
Maximum utilisation control
No additional costs

Convenient

Cable-free locking system
Conveniently and innovatively controllable for users and management
Convenient reservation of locker and cabinet space
Quick installation, convenient programming and assembly

Cooperative

Easy integration into existing systems

Can be integrated into your smart building management

Expandable

Digital access management

App-compatible
Innovative wireless technology
Take the next step with us
Have we piqued your curiosity? Then please feel free to contact us. Together with you, we will see which options for an electronic cabinet lock are feasible. Step by step, we support you from the selection to the installation and implementation. Opt for an electronic furniture lock. What are you waiting for?